Luxury Hotel at Affordable Rates in Kanatal, Uttarakhand
Make your holidays in Uttarakhand luxurious at an affordable price. Spend quality time with your loved ones and experience the best luxury stay in Kanatal, Uttarakhand. "Devbhumi" Uttarakhand is home to beautiful views, rich culture, and delightful weather. You can make your trip to Kanatal, Uttarakhand blissful by staying at the most luxurious hotel in Uttarakhand. 
Amenities By The Best Luxury Resort in Kanatal
Making your stay at our hotel memorable and exciting is one of our top priorities. We offer a wide range of premium amenities to make our guests' experience luxurious. If you wish to make your holidays at Uttarakhand relaxing, In Apple Estate will be the best place for you to stay happily. You will not find anything offered by other resorts in Kanatal, similar to our amenities.
Wifi Connection:

We understand the importance of staying connected, even during your leisure time. That's why we provide a reliable and high-speed wifi connection throughout our premises. Whether you need to catch up on work, share your vacation photos, or simply browse the internet, you can enjoy seamless connectivity.

Parking Space:

We value the convenience and safety of our guests. Our hotel offers ample parking space, ensuring that you can easily park your vehicle without any hassle. You can have peace of mind knowing that your car is secure and readily accessible whenever you need it.

Multi-Cuisine Open Air Dining:

Indulge in a delightful culinary experience at our multi-cuisine open-air dining area. We believe that dining should be an immersive and enjoyable affair, surrounded by natural beauty. Our skilled chefs craft a wide variety of delectable dishes, catering to diverse palates and preferences, ensuring a truly memorable dining experience.

Indoor & Outdoor Games:

To add excitement and entertainment to your stay, we offer a range of indoor and outdoor games. Whether you prefer a friendly game of table tennis, a stṣrategic chess match, or an energetic round of badminton, we have something for everyone. These activities provide an opportunity for bonding with your loved ones and creating lasting memories.

Power Backup 24×7:

We understand that uninterrupted power supply is crucial for a comfortable and hassle-free stay. That's why we have a dedicated power backup system that ensures round-the-clock electricity availability. You can relax and enjoy your time without worrying about any power outages.
By offering these exceptional amenities, we aim to elevate your stay at In Apple Estate and provide you with a truly luxurious and unforgettable experience in the beautiful region of Kanatal, Uttarakhand.
We offer 4 royal rooms to our guests with a magnificent himalaya. Our royal rooms can easily accommodate 3 guests at once with splendid modern amenities and spacious balcony and room. 
Our elite rooms are designed to accommodate families with kids flawlessly. We offer a mouthwatering breakfast to satiate your hunger and to keep you charged for a day full of adventure.
Our classic rooms offer you a splendid mountain view along with a great number of amenities. If you are looking for a relaxing getaway from your hectic life, our classic rooms will definitely help you let your hair down.
Our Divine Rooms For Your Memorable Stay in Kanatal, Uttarakhand

Royal Rooms With A Magnificent Himalaya View
Elite Rooms With A Splendid Mountain View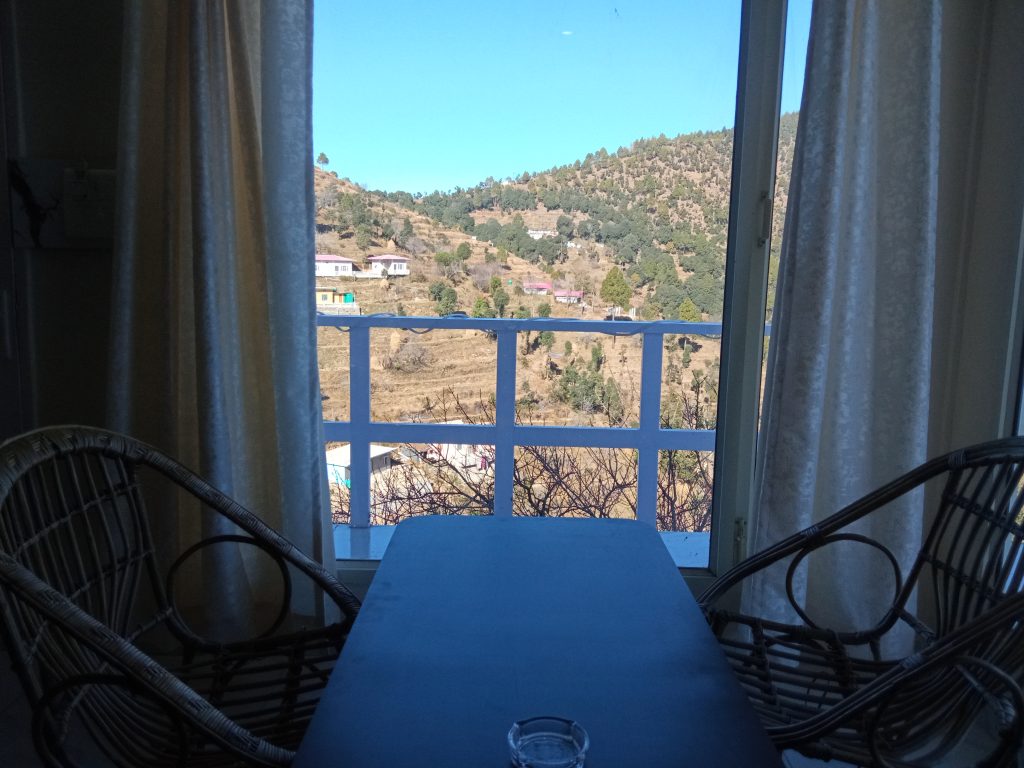 Classic Rooms With
Mountain View
Why Our Hotel for Your Memorable Getaway?

In Apple Estate is the finest luxury hotel right at the heart of Uttarakhand. Surrounded by a lush forest, it is the perfect place for you to make memories with your loved ones. We offer the finest amenities along with a blissful view to die for.
24×7 Room Service: We prioritize the comfort and convenience of our guests. Our dedicated staff is available round the clock to provide exceptional room service. Whether you need assistance with dining, housekeeping, or any other request, we are here to ensure that your stay is seamless and enjoyable.
Rooms With Great Views: We understand the importance of a captivating view to enhance your experience. Our rooms are meticulously designed to offer stunning vistas that will leave you mesmerized. Imagine waking up to the sight of lush greenery or the majestic mountains, providing a truly enchanting backdrop for your stay.
Top-Notch Customer Service: We take immense pride in our commitment to delivering unparalleled customer service. Our highly trained and friendly staff is dedicated to catering to your every need. From personalized attention to prompt assistance, we strive to exceed your expectations and ensure that you feel valued and well taken care of throughout your stay.
Great Connectivity: We recognize the significance of staying connected, even in the midst of nature's tranquility. In Apple Estate provides excellent connectivity options, ensuring that you can easily stay in touch with your loved ones or attend to any business matters. Whether it's high-speed internet access or reliable mobile network coverage, we have you covered.
In Apple Estate stands as a testament to luxury and elegance in Uttarakhand. With its picturesque surroundings, world-class amenities, impeccable customer service, and seamless connectivity, it offers an exceptional experience for those seeking a memorable stay.
Book a Room at The Best Luxury Hotel in Kanatal
Kanatal, a hidden gem nestled amidst the majestic Himalayas in Uttarakhand, is a destination that deserves a prominent spot on your bucket list. This serene hill station offers a captivating blend of natural beauty, tranquility, and adventure, making it an ideal getaway for nature enthusiasts and adventure seekers alike. Imagine waking up to the breathtaking views of snow-capped peaks, lush green valleys, and meandering rivers.